Antigua and Barbuda is an independent state since 1981. More than half of the country's population of 94 thousand people (2017) live in the St. John's area, in Antigua, the main island. The economy of the country is based largely on the sugarcane industry, light manufacturing and tourism.
Antigua is a low-lying, semiarid, limestone island of the Lesser Antilles, with approximately 25 km east-west and 19 km north-south. St. John's, the country's capital, is located along the northwest coast, adjacent to one of the Antigua's many natural harbors.


Copyright © Geographic Guide - Travel American Continent, The Caribbean.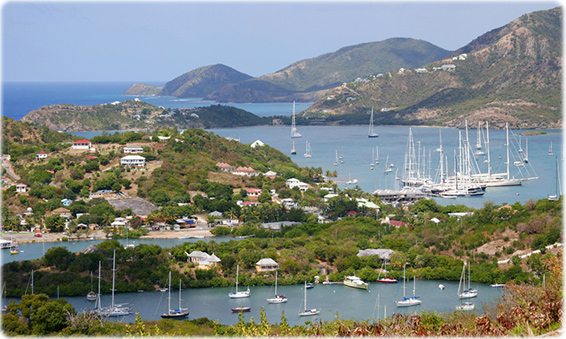 Falmouth Bay, English Harbour, in Antigua.
Pristine Barbuda Beach. Below, Jolly Beach Resort. Photos High Commission for Antigua and Barbuda.
High Commission for Antigua and Barbuda