Bangkok - Thailand
Bangkok, the capital of Thailand, is located on the banks of the Chao Phraya River. It is the political, commercial and cultural center of the country.
Bangkok became the Thai capital in 1782 by the King Rama I. The place was known as Bang Makok or 'Place of Olives'. In the 19th century, under the rule of Rama III, many temples were constructed. Today, Bangkok has more than 300 temples and is one of the most important Buddhist centers of all Asia.
During the 20th century, Bangkok grew really fast and became a cosmopolitan metropolis with more than seven million inhabitants.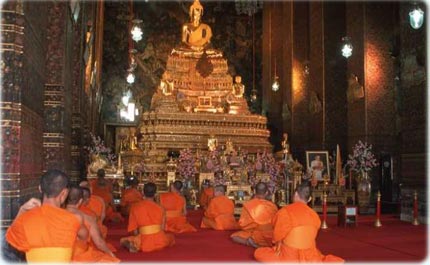 Monks in a temple in Bangkok, Thailand.