In the northern Mid-Atlantic (right) and Upper Midwest (left) regions of the U.S. Image from the Aqua satellite on April 10, 2003, shows ice still clinging to shorelines in (west to east) lakes Superior, Michigan, Huron, Erie, and Ontario. South of Lake Ontario in New York, slivers of dark blue water are the glacier-carved Finger Lakes (NASA).
Lake Michigan (NASA).
Lake Michigan
Lake Ontario and Simcoe, North America (NASA from space).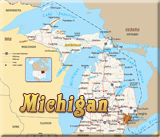 CANADA
Lake Huron
Lake Ontario
Lake Superior
Lake Erie


| | |
| --- | --- |
| | Copyright © Geographic Guide - Travel. |