Considered the South Africa's cultural hub, with a host of galleries, theatres and museums. Johannesburg is a cosmopolitan city and the economic capital of South Africa.
More Tourist Attractions.

Nelson Mandela Bridge, in Johannesburg (photo Chris Kirchhoff).
A Bafana fan celebrates South Africa's victory at the FIFA World Cup 2010. More South Africa images.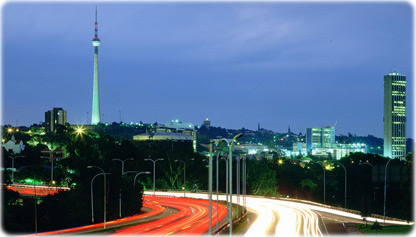 Johannesburg, Gauteng: the M2 highway at night, with the Sentech Tower in the background (photo Walter Knirr).
Soccer City. Originally built in 1987, South Africa's national soccer stadium has played host to some of the most memorable matches in South Africa's soccer history. South Africa defeated Congo 1-0 at the ground, in front of a delirious capacity crowd, to qualify for the World Cup finals for the first time. And it was at the same venue that the 1996 African Cup of Nations kicked off and then finished with South Africa beating Tunisia by two goals to nil to give the entire country a welcome boost, especially as it followed only one year after the Springboks had won the Rugby World Cup, also in Johannesburg. It was also the venue for the first mass rally to celebrate Nelson Mandela's release from prison in 1990, which drew over 100 000 people.
Soccer City remains South Africa's foremost soccer venue, the main venue in the 2010 Fifa World Cup. Its seating capacity increased from 80 000 to 88 400 for football's showcase event. The new-look stadium is certainly eye-catching with a distinctly African flavour. That's because the design is based on the African pot known as a calabash. The stadium is a short distance from the famous Soweto township, well known for its fanatical football supporters (source: www.southafrica.info).




Copyright © Geographic Guide - Travel African Continent.