Buenos Aires, located on the western bank of the Rio de la Plata, is the economic, political and cultural center of Argentina. It is a great metropolis with twelve million people with high cultural standard.
It is frequently described as the most European city of the Latin America. The majority of the population descends from Spanish, Italian and German immigrants. They are responsible for a city with intense cultural activity.
The Plaza de Mayo is the principal urban center of Buenos Aires. Around this square, important buildings can be found, like the Casa Rosada (the presidential palace), the metropolitan cathedral, and the Cabildo (the colonial town council, now a museum).
More: Map of Argentina ►
Buenos Aires at night. The brightness of the lights reflects the density of the urban population, which declines to blackness in the farmlands that surround the city. The brightest area is the old part of the city centered on the port and the presidential palace. The blackest part of the scene is the River Plate, the great estuary of the Atlantic Ocean on which this port city is located. The widest city thoroughfare in the world - the Avenida 9 de Julio - is the brightest line in the downtown cluster. It appears as the longest north-south strip just inland of the port (NASA).

Copyright © Geographic Guide - Travel South America.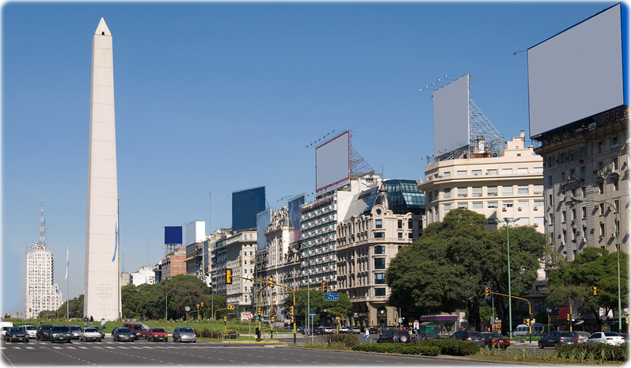 Nueve de Julio, the main avenue in Buenos Aires.