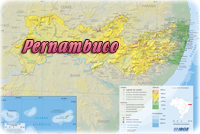 The state of Pernambuco has varied landscapes, including mountain ranges, plateaus, swamps, the semi-arid hinterland and several beaches on the coast with vast reefs and natural pools. The most visited places are Porto de Galinhas, Carneiros, Cabo de Santo Agostinho and the archipelago of Fernando de Noronha, listed by Unesco as a World Natural Heritage site. Among the main attractions in Noronha are the jumping dolphins, which can be seen in various parts of the islands. The state capital is Recife.
In Recife, the state capital, and Olinda, which are separated only by a viaduct, one of the main attractions is Carnival, which attracts revelers from around the world. The Galo da Madrugada, in Recife, which is considered the largest street Carnival group in the world, gathers about 2 million people every year.
Another well-known city in Pernambuco is Caruaru. The city is considered the capital of forró due to its famous June Festival. An event typical of Brazilian culture, the June festival is held in June in honor of one of the most popular saints in Catholicism - St. John. The festival in Caruaru lasts more than 30 days, sometimes even stretching through the months of May and July
In the late 1630s, Holland establishing a series of forts along the coastline of Brazil. The expedition led by Prince Maurits of Nassau brought with him a group of highly accomplished artists, mapmakers, and scientists to Brazil.
(Main source: Embratur). More: History of Brazil ►