The State of New York is in the Middle Atlantic region of the United States. It is bordered by the Canadian provinces of Ontario and Québec on the north and by Lake Ontario and Lake Erie on the northwest and west. On the east the New York is bordered by the states of Connecticut, Massachusetts, and Vermont. Pennsylvania lies west and south of New York, and New Jersey and the Atlantic Ocean lie to the south. Albany is the capital of the state and New York City is the largest city.
Long Island Sound is 185 km long. The northern coast of Long Island has low hills and cliffs and is indented with many bays. Many cities, such as Stamford, Norwalk, and Bridgeport form an urban corridor along the Sound's Connecticut coast, with many of their residents commuting to and from their jobs in the New York City area. The region to the north of the Connecticut coast is made up of low hills and rolling terrain with numerous small lakes and forested areas.
More: Historical maps of New York City ►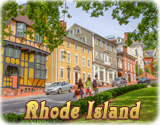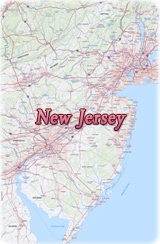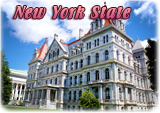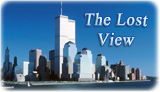 Broadway, Manhattan, and the Brooklyn Bridge in the background.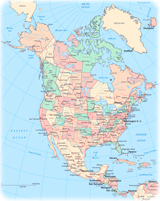 Copyright © Geographic Guide - Travel American Continent.
Source (edited): USGS National Map.