Image of English Channel - England, France
Cambrian Mountains, Bristol Channel, Great Britain (Winter/Spring 1997 - NASA). The Cambrian Mountains can be seen extending from the north (top center of the image) southward to the Bristol Channel in this north-looking view. A rugged upland plateau, the Cambrian Mountains cover most of central Wales. The region has deep small lakes and is cut by numerous river valleys. Slightly below the center of the image, a section of the southern Cambrian Mountains known as the Brecon Beacons are visible. The Brecon Beacons are two sandstone peaks that reach an altitude in excess of 885 m. The Bristol Channel, an arm of the Atlantic Ocean, can be seen extending from near the right edge of the image (east) to the lower left portion of the image (west). The channel is 135 km long and from 8 to 81 km wide and separates Wales (north) from southwest England (south or bottom portion of the image). The Bristol Channel serves as a major shipping corridor for southwest Great Britain. A portion of Cardigan Bay is visible in the upper left portion of the image.
(MODIS image, NASA - April 2003).
England is a political division of the island of Great Britain. It occupies all of the island east of Wales and south of Scotland, other divisions of the island of Great Britain. Established as an independent monarchy many centuries ago, England in time achieved political control over the rest of the island, all the British Isles, and vast sections of the world, becoming the nucleus of one of the greatest empires in history. The capital, largest city, and chief port of England is London.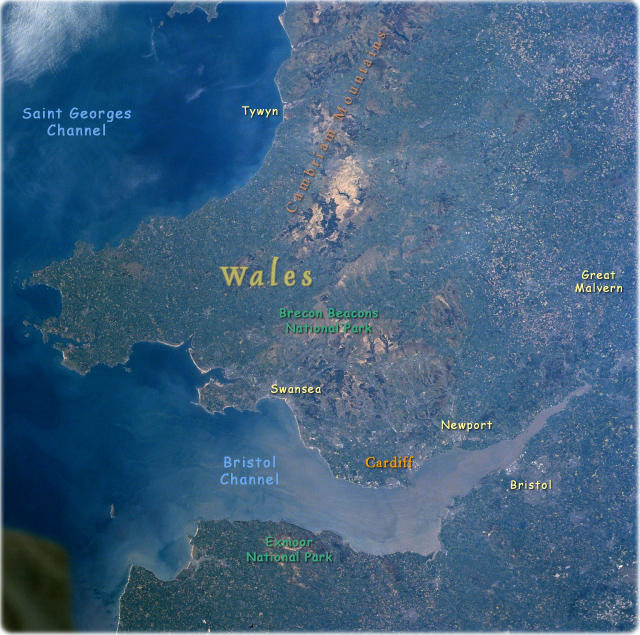 | | |
| --- | --- |
| Canal da Mancha between France and England | All rights reserved |