Belgrade, the capital of the Republic of Serbia, is located at the confluence of the Danube and Sava Rivers. Kalemegdan, located along the right banks of both the Danube and the Sava Rivers, is the core of old Belgrade.
Serbia is a landlocked country in the Balkan Peninsula, Southeast Europe. The capital is Belgrade.
The Kingdom of Serbs, Croats, and Slovenes was formed in 1918. Its name was changed to Yugoslavia in 1929. The military and political movement headed by Josip Tito took full control of Yugoslavia when the German forces were defeated in 1945. For the next four and a half decades, Yugoslavia had a Communist government. In 1991, Croatia, Slovenia, and Macedonia declared independence, followed by Bosnia in 1992. The remaining republics of Serbia and Montenegro declared a new Federal Republic of Yugoslavia (FRY). Montenegro declared independence in 2006 and Kosovo in 2008.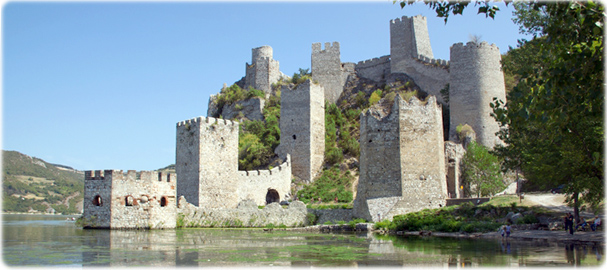 Golubac Fortress on the south side of the Danube River.

Copyright © Geographic Guide - Travel European Continent.