Arctic Region image by NASA.
Arctic Region and countries
Global View of the Arctic Ocean during Winter, representation by NASA, using advanced radar that sees through all weather conditions. Sea ice in the polar region is a large barometer of global climate conditions.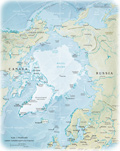 Copyright © Geographic Guide - images of the Arctic.